Two and one-half miles (with one short portage) from the nearest road, the Triangle Cabin is accessible by water only. Triangle Lake is deep and clear with more than 20 islands. After a 45-minute paddle or ski, you will reach this new piéce-sur- piéce log cabin situated on a knoll overlooking Triangle Lake. Surrounded by white pine, maple, ash and cedar, this cabin provides the ideal escape from the pressures of life. Spend idyllic days paddling or skiing, observing wildlife, or fishing in the solitude.
Only a portage away from the Kawishiwi River, it is the perfect location for many miles of back-country travel in the Boundary Waters Canoe Area Wilderness. It is very well finished with hardwood floors, stone chimney and log furniture. Here, you'll find everything you need to be comfortable in a wilderness setting, including a traditional Finnish sauna. Access 2.5 miles by water.  Contact us now to check availability now or call us at 218-365-4254.in and out. A canoe comes with each cabin.
Although these cabins do not have indoor plumbing or electricity, they are comfortably outfitted. All of our cabins have a traditional Finnish sauna for bathing and relaxation. We supply fresh drinking water from Ely and propane for lighting, cooking and refrigeration. In addition, each cabin has a clean, comfortable outhouse. Also, we escort you to your cabin and provide help getting gear in and out. A canoe comes with each cabin.
Find it on the Map  *  Welcome to Triangle Lake
Triangle Lake 
Double Occupancy 
Extra person/Children 5-18
yrs +
Per Pet
4 night minimum*
$190/day for 1-2; $205/day for 3-4
$35/day
$10/day
Weekly (7 nights)
$1200 /week for 1-2; $1350/week for 3-4
$35/day
$10/day
Main Cabin Photos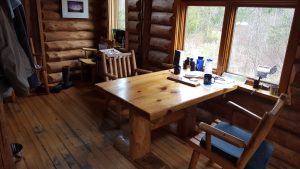 Sauna / Bunkhouse